Defective twins
Datos EXIF

| | |
| --- | --- |
| Fecha de captura: | 2014:03:16 14:19:15 |
| Cámara: | NIKON D5100 |
| Longitud focal: | 55 mm |
| Modo de medición: | Media ponderada al centro |
| Programa: | Manual |
| Tiempo de exposición: | 1/160 seg |
| Apertura: | f 5.6 |
| ISO: | 100 |
| Balance de blancos: | Automático |
| Con flash: | No |
Two mannequins, on a street in Madrid.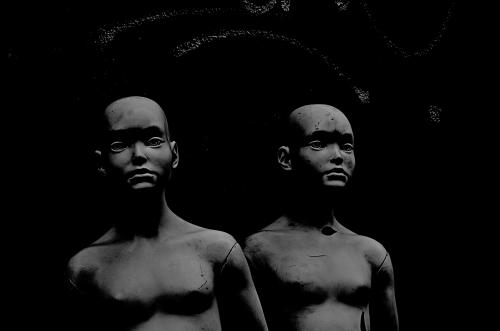 They had a stern pose in front of passing people, stoic, but seemed to observe with the same attitude two slightly different points of view.
In the development I thought to try to put them in black and white, then to force it a lot since its clarity stood out a lot. It was intended a more industrial aspect, which I think sticks with its somewhat abandoned appearance. Maybe it could have been a cover of some IDM album.
portfoliophotographyflickrinstagramMadridb&wrawdoll
José M. Carnero
Thursday 20 de March de 2014 (16:33)